You can almost always find Twitch streamer Juan Guarnizo in a crowd by listening for his very loud and unique laugh, beloved by his fans. If you're at the Cupra Arena stadium in Barcelona, though, you'll see Guarnizo first. He'll be the one decked out in red to represent Aniquiladores FC, one of the 12 teams in the Kings League, and probably be wearing a baseball cap and shades.
Guarnizo has 10.5 million followers on Twitch and serves as the president of Aniquiladores, which means "Annihilators" in English. He's the biggest Latin American streamer in the Kings League, Gerard Piqué's indoor soccer league on Twitch that debuted in January, and his channel is in the top 10 most-followed in any language worldwide. Guarnizo's streams, which are in Spanish, feature a variety of content. Some days, he'll play games like Minecraft or Grand Theft Auto. Other days, he'll chill and chat with his fans.
Most recently, Guarnizo has been focused on the Kings League, where teams are led by steamers or ex-professional soccer stars and matches resemble real-life video games. The steamer lights up when he talks about Aniquiladores on his channel and says that now, he can't imagine his life without the Kings League.
"We go to the Kings League to talk about soccer, and we don't give a damn about what's happening outside," Guarnizo said in a stream after the first season's final game. "The internet could be falling to pieces and the Chup Chup [Piqué's weekly pre-game show] will keep on going."
Guarnizo isn't the only one who's gotten hooked on Piqué's Kings League though, which is played in Spain. The Kings League has swaths of fans in Latin America. People tune in to watch the games every weekend to support Guarnizo and two of the region's other big streamers, the Mexican streamer Rivers and former Argentine striker Sergio "Kun" Agüero, who also have teams in the Kings League.
Although Rivers and Agüero have passionate followings, Guarnizo is the Latin American streamer who brought in the biggest audiences during the Kings League's first season split. In addition to the league's official streams, all streamers broadcast the games on their own Twitch channels and offer live commentary, and many of their communities watch the games with them.
In just a few months, Guarnizo has skyrocketed through the league, gaining followers and turning Aniquiladores into one of the most beloved Kings League teams in Latin America. According to Streams Charts, a streaming analytics service, Guarnizo gained more than 780,000 followers during the first three months of the Kings League, a 95% increase over the previous period.
His team, an underdog during the regular season, knocked out two fan favorite heavyweights to make it to the final match of the raucous tournament, which was played on March 26 in front of 92,000 people in FC Barcelona's famed Camp Nou stadium and a live audience of 2.16 million online. Although his team didn't take home the championship trophy, Guarnizo still considers that day one of the best of his life. Because for him, the Kings League has been a breath of fresh air, a place where he only has to focus on something he loves.
Streams Charts told Gizmodo that viewers watched Kings League games for a total of 1.55 million hours on Guarnizo's Twitch channel during the first season split, with an average of 55,000 viewers per game. At one point, the streamer had 202,503 people watching the Kings League on his channel simultaneously. Guarnizo's channel was the fifth most-viewed channel for Kings League content, beaten only by the league's official channels and by megastreamer Ibai Llanos, who leads the Porcinos FC team in the conference.
Gizmodo went to Barcelona to speak with Guarnizo at the Kings League's second split debut, which will end in July. The Colombian streamer, who lives in Monterrey, Mexico with his wife, the Mexican streamer Ari Gameplays, traveled to Barcelona to watch his team's first game against El Barrio, the team led by TikToker Adri Contreras that Aniquiladores lost against in the final. Guarnizo was all smiles. This time, his team had won.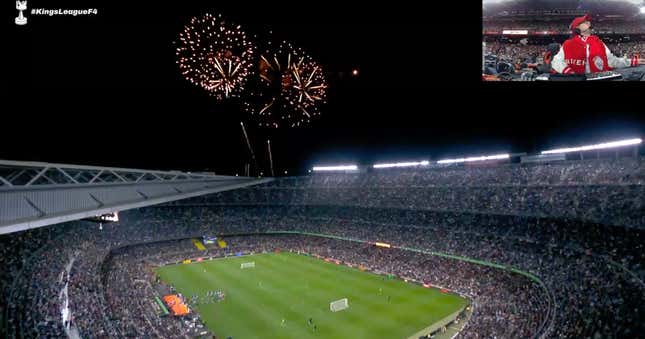 This interview has been lightly edited for length and clarity.
Gizmodo: How would you describe your streams to someone who might not be familiar with them? For instance, how long have you been streaming and where do you get your biggest audience?
JG: I'm a content creator and I've been doing things for six years, doing livestreams, videos, etc. A lot of people from Mexico follow me. The second country where I get the most viewers is Spain. Basically, I dedicate myself to creating a variety of content, playing games, talking about a lot of things, and now, most recently, being involved in the Kings League and being a team president.
Gizmodo: How would you describe the Kings League for someone who's not familiar with it?
JG: It's a type of indoor soccer with very distinct rules. It has an element of game strategy, such as the cards that can appear at different moments in the match. It's a type of soccer that's very dynamic and very fun for everyone.
Gizmodo: What was your reaction when you were approached about getting involved in the Kings League?
JG: When they told me about the project, the truth is I liked it a lot. I also really liked that it was headed by people like Gerard Piqué and included team presidents like [Twitch streamer] Ibai Llanos and [YouTuber] DjMaRiiO. They gave it a seal of quality, so to speak. I really liked it since the beginning, but the truth is that I grow more passionate about the team and the competition with every game.
Gizmodo: Before getting involved in the Kings League, did you like soccer? Were you a big fan?
JG: I've been the occasional soccer fan. There are World Cup teams that have really caught my attention and other teams that have occasionally really interested me. In 2014, for example, the Colombian national team—I'm Colombian, although I live in Mexico—at the World Cup in Brazil was crazy good.
At times, Real Madrid has also caught my attention with players like Cristiano Ronaldo and James Rodríguez when they were on the team. Now, I'm trying to soak up all the soccer I can every day. The truth is that I'm a person who's learning a lot and this experience has helped me learn a lot about soccer and how to manage a team, and I think we're doing a good job.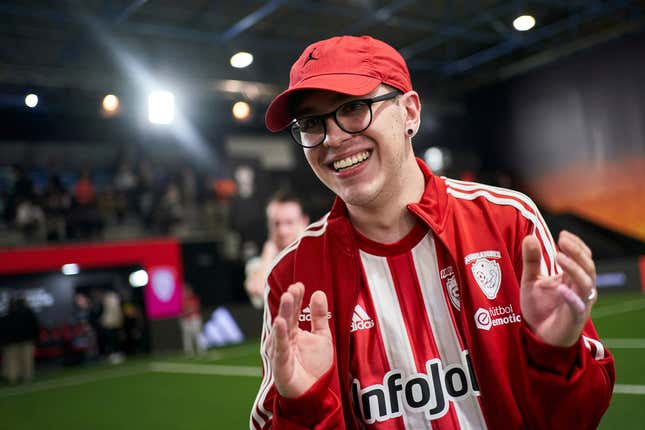 Gizmodo: Totally. I'm the same way. I often tell my friends that I don't really understand traditional soccer, but I understand Kings League soccer.
JG: They're really different. A lot of people who don't like traditional soccer might like the Kings League and vice versa. There are a lot of people who don't like the Kings League but might be super passionate about traditional soccer. However, I think traditional soccer viewers and Kings League viewers can exist side by side perfectly.
Gizmodo: Have you been surprised by how the public has reacted to the Kings League?
JG: I have, to tell you the truth. Because I'm not a content creator that focuses on soccer, like DjMaRiiO or Spursito, who's a streamer who creates a lot of sports content, I was a bit scared to see how my audience would respond to the project and whether they would support it. But the truth is that I've gotten to point where the Kings League games are my most viewed livestream of the week. People really support the team and make a ton of noise about it on social media. I really like to see so much passion for the team because it's what I share with people.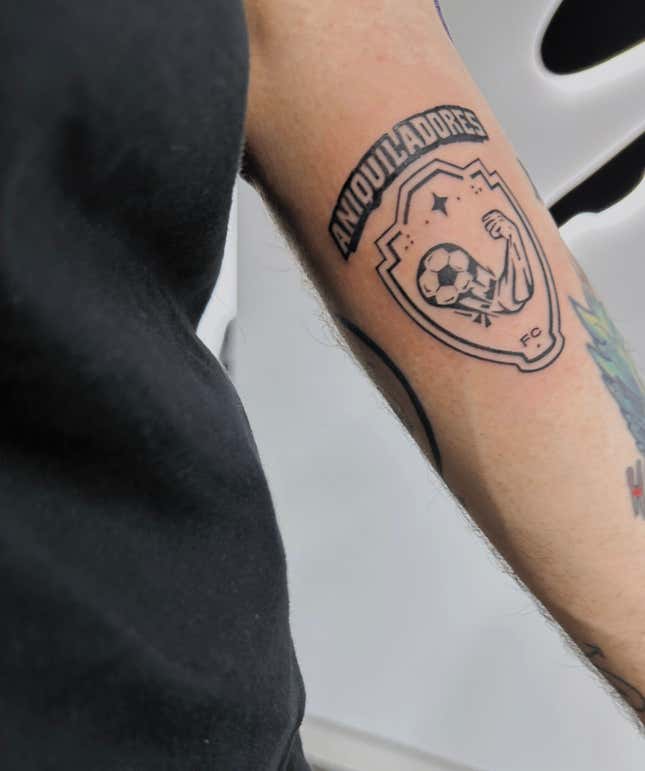 Gizmodo: I see you got the Aniquiladores logo tattooed on your arm. It's really great. When did you decide to get it tattooed? Did you just wake up one morning and do it?
JG: It was pretty clear to me during the Final Four when we won in the semifinal game against Troncos at Camp Nou in front of 90,000 people. It was like an epiphany, you know? It was like, "Wow. What I'm living is truly crazy. I'm really passionate about it, I really like it, and I want to have it on my skin."
So, I decided to get my team's logo tattooed. It's because that day at Camp Nou is probably one of the best days of my life and I always want to remember it.
Gizmodo: What has the Kings League meant for your Twitch channel? What kind of feedback have you gotten from your followers?
JG: A lot of love, a lot of interest from people who want to know what we're doing and how we're doing it. I've also received a lot of understanding from people. There are a lot of people who are fans of this team, and with so many people, you would think that perhaps the audience or the fans themselves might demand more from the team, from the players. But no, I've seen a lot of positive feedback after both good games and bad games.
I think that for me, as a content creator, the Kings League represents one more level that I've advanced to, it's a project that I like a lot. I don't want it to become all of my content because I still have a lot to offer in different areas, but I'm thrilled to be able to dedicate all the time that I want to this project that we all like so much.
Gizmodo: We're speaking here in Spain where there are clearly a lot of Kings League fans. How has the Kings League been received in Latin America?
JG: It's been crazy. Since the Kings League started, whether it be Spain or Mexico or wherever I go, people talk to me about the team. I've had to travel to Chile and Guatemala over the last few months and everyone stops to say hello. Before, it was "Juan, can you take a picture with me?" and now it's, "Juan, can you take a picture with me? I'm a fan of Aniquiladores."
It's nice to see how many people are following this project. I feel a lot of love from the public. People talk to me about the team a lot, and I think Mexico has loved the Kings League. Besides, I'm not the only Latin American content creator in the league. There are also really big content creators like Rivers and Kun Agüero from Argentina. I think it was a great choice to have three faces from Latin America in the project.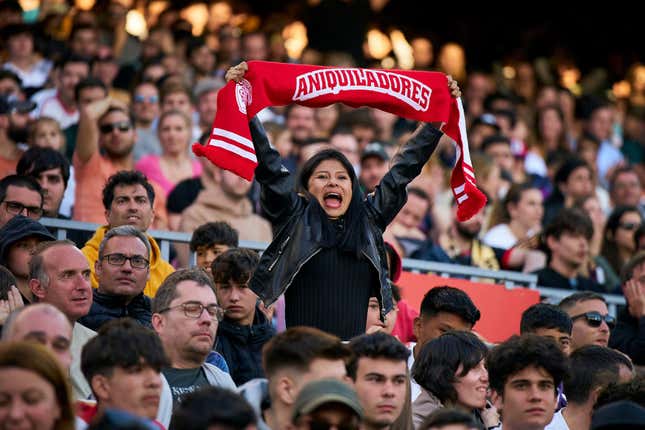 Gizmodo: What's it like in your house on game days?
JG: The games are on Sundays and because of the time difference, they happen really early in the morning. The first one starts at 9:00 a.m. So, I'll wake up really early to watch the game. I've already told my wife Ari, "It could either be a really good day, or it could be a terrible Sunday." The game finishes at midday and if you win, then you have a really happy Sunday. But if you lose, you spend the rest of the day completely bummed out.
Game days are days that are full of emotions, but that's the way soccer is. There are days where it's going to make us very happy, like today where we won 5-2 against El Barrio, but there are also days where you might end up a bit bummed. It's important to know how to manage that.
Gizmodo: Speaking of soccer, when are you going to shoot a penalty kick? (One of the Kings League's "Secret Weapon" cards allows team presidents to take a penalty kick. To date, Guarnizo is the only president who has done everything possible to avoid doing so.)
JG: I don't play a lot of sports, so I have to practice. I think that I accepted this project as a president and as president, I want to give my team everything I can. However, I think that getting involved by actually playing is a bit complicated for me because I don't have a lot of contact with soccer and don't really play myself. But I'm practicing and I hope that soon I'll be able to feel confident enough to do it. I think it can happen in this split. Yeah, I think it'll happen.
Gizmodo: I've always been curious, as far as being a team president goes, what is your role like? Besides, of course, being the leader and face of Aniquiladores.
JG: Well, we have to make a lot of decisions and keep an eye on a lot of things. We also have to listen to our players and help them in what we can. I've separated my work as president and the work of the coaching team really well. As a president, I don't get involved in decisions on the field or related to the game. I take care of everything besides that.
For instance, I stay up to date on the practice sessions and anything players might need for practice. I try to help the players with any problem they might have, I stay in touch with the Kings League and with them, so they know everything that's going on. Overall, I think my job can be very administrative and very enjoyable. Then you have the player transfer market that we did about a month ago. In that case, the president's role changes a lot because you have to work with your coaching team to decide what players to buy and what changes to make on the team.
It turns out to be kind of like a strategy game, but with administrative elements. It's fun.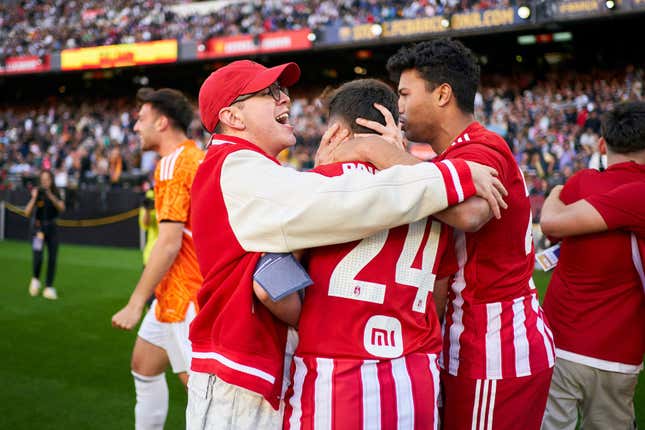 Gizmodo: There's been talk of starting a Kings League in Mexico in the near future, although nothing's official yet. Would you leave the Spanish league to join the Mexican tournament if it becomes a reality?
JG: No. I would stay in the Spanish league because we've already created the project here. We started a project that was very difficult to get off the ground and right now we have it on very good footing. I have a team that I love, and I wouldn't like to lose everything we've achieved, like getting to the Final Four and starting off the second split with a win. I love everything we've achieved too much to let it go.
I hope the Mexican Kings League goes very well. I have no doubt that if they do it, they'll do it very well, but I'm already here. I want to stay here.
Gizmodo: As a content creator, what has been the biggest challenge for you? Has it been having to travel to Spain? The time commitment?
JG: Traveling to Spain is exhausting and the Kings League does require a lot of time. I'm a person who really likes to be at home, so being away from home can sometimes affect me. But I think that these sacrifices, to put it one way, were things I already knew when I accepted the project. Secondly, they're always worth it.
Every time I've come to Barcelona to the Cupra Arena to watch the games, I've never, not once, seen the team lose. So, it's always heartening to come.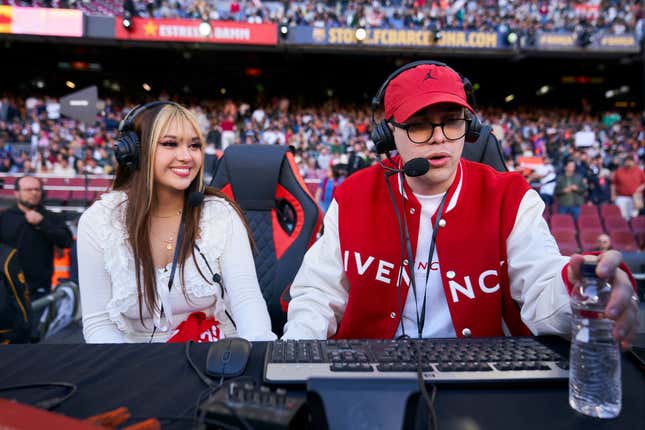 Gizmodo: Why do you think the Kings League has been a success? Some presidents have said that the key has been the streamers involved and I would like to know if you agree.
JG: I definitely think so. The streamers give the Kings League a lot of momentum and are the reason it's having this kind of impact. However, I think it's very important to recognize the work done by both Gerard Piqué and [Kings League CEO] Oriol Querol, two people who are very creative and hardworking. They're thinking about what to do next all the time. The Kings League definitely wouldn't be anything without them, or without us, the presidents, because we're just as committed to our teams.
Gizmodo: What do you think the Kings League has meant for the streaming world?
JG: A new way to watch sports.